Live Webinar
Enhancing Safety & Operational efficiency for Railroads with Digital Technologies
This webinar deep dive into:
Digital technologies and how they can be utilized to architect an automated digital rail asset inspection system?

Techniques and strategies for establishing engineering operations for the development of an automated asset inspection system?

The road ahead for the future of the Railroad Industry
Embark with us on a journey to accelerate railway digitalization.
Register for the webinar now!
Rail transportation is universally recognized as the most economical and environmentally friendly mode of transport on a global scale.
Railroads (Freight operators) own a vast rail network of various assets like Tracks, Signalling, Overhead lines, Yards, Civil structures – tunnels/bridges, Rolling stock – Locomotives and wagons. These must be maintained with practically no downtime to ensure there is no impact on safety and revenue generation.
With the advancements in Digital technologies like IoT, AI-ML-based automation, Edge and Cloud Computing, Big Data Analytics, Image analytics, DevOps, and MLOps – there is a massive opportunity to leverage these technologies for automated inspection of assets. This will help to increase the efficiency of rail operations and build scalable engineering operations for developing automated inspection systems.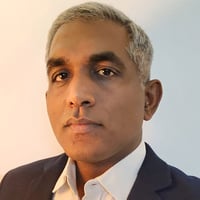 Sandeep M V
Industry Vertical Head – Rail,
Transportation Business
Tata Elxsi